The Railyard
Recently, I visited Santa Fe only to discover that this city has
remained true to its character and history as it has adapted to new and ever-changing times
. More importantly, it is a city that has spirit. And no wonder, the Spanish name of the city means "Holy faith."
The Farmers Market is but one of the many tenants located in the historic Railyard, a new and exciting 50-acre complex. It is also a good example of how progressive citizens work together with local government to benefit the whole community. Only 25 years ago this area was declared a blighted area.
Santa Fe has had a history as a trade and commerce center since the Pueblo people lived here almost a thousand years ago. The Spanish conquistadors continued that tradition as did the Americans when they built the Santa Fe Trail. The city became a center of rail commerce in 1880 when the Atchison, Topeka & Santa Fe Railway Company (AT &SF) opened for business. The railroad also ended the era of travel by horses, covered wagons and stagecoaches on the old Santa Fe Trail and allowed Eastern tourists to see the West in relative comfort and style through its dining and sleeping cars as well as its chain of Harvey House accommodations.
Harvey Girls served the railroad eating houses




Native American and Mexican artisans found a new market for their pottery, textiles, jewelry and baskets. New building materials, such as galvanized tin, metal roofs and Victorian bricks were added to the city's adobe style of architecture. New neighborhoods developed around the train station and the depot became a center of activity where people met and politicians and celebrities held public forums. During the 1930s Depression, the station was a distribution center where people could get free meat from warehouses.
Part of what defeated the railroads, however, was the growth of air and auto travel after World War II. As a result, the station fell into disuse and disrepair. In 1987, hundreds of citizens and city officials began the process of creating the Railyard Master Plan. In February 2002, a hundred years since the formation of AT&SF, the plan was approved. Rebuilding began in 2006.
The essence of the plan was to make the Railyard the hub of city life it once was, to preserve its historic buildings and to emphasize the Railyard's importance as a center of transportation, economics, and culture. In carrying that out, a vibrant mix of tenants was recruited to serve the diverse needs and interests of the community as a whole as well as to enhance the integrity of the adjacent neighborhoods.
Besides the Farmers Market are a bevy of restaurants, specialty shops, biking and walking trails, artist studios, space for warehouses and light industrial firms, furniture showrooms, offices, and other locally-owned businesses. People also have a variety of entertainment venues from which to choose including live performances, exhibitions, films, music, community dances, walkathons and flower shows.
New Mexico Railrunner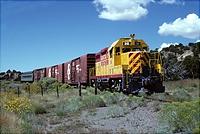 Santa Fe Southern
Officials also wanted to feature the city's railway past so they secured an engine and a few passenger cars from the old Santa Fe Southern to offer excursions to Lamy, NM, an old railroad spur 30 miles away. Recently, the city added the New Mexico Railrunner Express that provides commuter service between Santa Fe, Albuquerque (including a stop at the airport) and Belen. And, it has been a hit with area residents.
It is obvious that leaders here have put a lot of thought into making the city the great place to live and conduct business over the past century since New Mexico became a state. For example, in 1912 civic leaders adopted elements of the City Beautiful movement (popularized at the 1893 Chicago World's Fair), which sought to inspire moral and civic virtue in its inhabitants, awaken a sense of pride and community with fellow urban dwellers and entice the suburban rich to conduct their business and seek entertainment there.
In
1957 city officials created a building code that required all new buildings to be adobe, a code that is still in effect today. They developed the "Santa Fe Style" with its thick adobe walls, flat roofs and beams that stick out called vigas. (Adobe was perfected by the Moors in Spain and the Spanish brought it to the New World.)
In foreseeing conflicts between preservationists and scientific planners, officials set forth the principle that historic streets and structures be preserved and that new development be in harmony with the city's character.
According to
Harry Moul, and Linda Tigges (
New Mexico Historical Review,
Spring 1996), planners also anticipated limited future growth, considered the scarcity of water, and recognized the future prospects of suburban development on the outskirts.
This focus on community was also considered when it came to decisions about building the Interstate highway system in this area. While most other American cities thought nothing of putting the new highways through their cities, even sacrificing their vibrant neighborhoods, Santa Fe had the Interstate go around its city's limits. The international airport is in Albuquerque 60 miles away. These are very strange arrangements for a capital city, but apparently it worked for Santa Fe. The result is that the original city remains in tact and attractive. Not a bad trade for a little inconvenience!
On the other hand, Santa Fe mirrors the free-spirited sentiments of the West that encourages people to live the way they want and to do whatever they want with their land. Consequently, there are very few zoning laws here. My in-laws, for example, live in the outskirts of the city. They have goats, chickens and a dog that runs without a leash unconfined in a fenced yard. The houses in this area are not sited in any particular way or according to a development plan, unlike most cities whose houses are neatly lined up and rules are strictly enforced by codes and peer pressure.
People here seem uncharacteristically polite. I attribute this quality to the outdoor culture of the place and the abundance of public space where people interact with each other frequently. Public space warrants a different kind of behavior than private space; it requires that people know how to share and be respectful of each other and at the very least, their presence.
I first noticed this during the crowded Saturday farmers market where parking was at a premium. People weren't rushing to capture a space, and if they noticed you eyeing a spot, they yielded and moved on.
T
he Plaza is the central park of the downtown area where people congregate almost all the time. We were there on a Saturday when a disc jockey played music on the stage and anyone who wanted to dance or lip sync was invited to have at it. The event was an information day for mental health organizations, but I was told that there is always something going on in the Plaza. Apparently, people want to be there so it serves as a gathering place right in the center of the city. There's something to seeing other people whether you know them or not. Then again, it's a wonderful thing to see people you know out in public spaces.
Another reason for this politeness, I think, is the city's multicultural past where different cultures (
Native American, Spanish/Mexican and Anglo
) have been living together for centuries. You can see it everywhere: in the people's faces, the architecture, the food, the art, the music. I think this quality encourages a respect for differences rather than conflict, although there have been many conflicts in Santa Fe's history.
After spending time in Santa Fe i
t occurred to me how confused some of our politicians are about multiculturalism. They think it tears down the community and dilutes what it means to be American. I think it contributes to a vibrancy in the people and the spirit of the place. It's what makes this city great--and more American than most.

As one of America's oldest cities Santa Fe has also had a lot of practice in learning how to create a quality of life for its people. It felt good to be here even though the city sits at 7,000 feet where the atmosphere loses about one-fourth of its density. This crystal clear air often described as transparent "makes distant objects seem closer and more sharply outlined creating a sense of space and openness rarely experienced elsewhere," says travel writer Robert L. Casey. The 300 days of sunshine and extraordinary blue sky have been a special attraction for artists. The wide-open spaces and long horizon give a different breadth of view. The mountains surrounding this desert environment are fairly green with clumps of fragrant pinion pine, cottonwood, juniper and sagebrush covering it. No wonder Georgia O'Keeffe was so taken by it.
The altitude can play tricks on you, however. I got a headache on my second day, however, a couple aspirins, rest and a lot of water got me up and going in half a day. It gets very hot in the summer but by mid-September, it is cool in the morning and evening, enough for a sweater. Then there were those dreamy nights where I'd look out the window and see stars—including the Milky Way!
On the last morning before I returned home, I quietly sat on my host's patio and reflected on my stay in Santa Fe. Two sets of chimes intoned the wind, one of them a constantly tinkling mezzosoprano and the other an occasional tenor. The bright sun was warm without making me sweat and a fountain gently spilled into a man-made pond providing just enough background sound. The big Monk-with-Lantern puppet overlooked the patio with his eternal smile and I could smile, too. This had been a good trip, a worthwhile trip and I was satisfied. I plan to return soon.