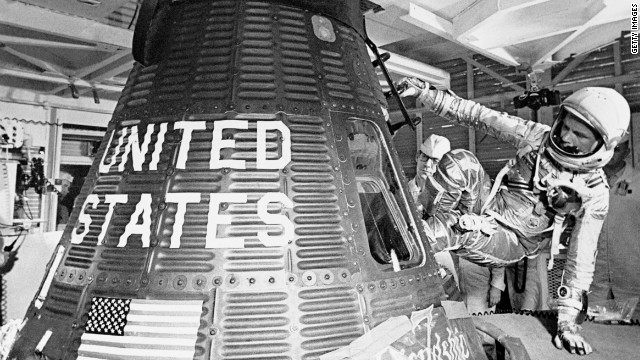 50 years ago today John Glenn entered the Friendship 7 space capsule as the first American to orbit the earth. He did it three times.
Fifty years ago today John Glenn sat atop the Atlas missile that launched America's first astronauts, known as the Mercury Seven, into space. He orbited the earth in the Friendship 7 aircraft three times in a dramatic flight that captivated everyone--from children to the president of the United States--and had us glued to our TV sets.
After his flight, Glenn was treated to a ticker tape parade in New York City, and he received the NASA service medal from President John F. Kennedy. Schools all over the country took on Glenn's name to honor him.
Back in those days we knew the names of all seven astronauts, what NASA meant, where Cape Canaveral was and that our ultimate goal was to land on the moon by 1970 (we did it in 1969). Spirits were high and we felt good about ourselves as a people. We also knew what a hero was and we celebrated his achievement and daring.
The photo I received when I wrote him
I was 11 years old and during those days I developed the hobby of writing public officials like the President, members of his Cabinet, the Queen of England to ask for their pictures and information about their jobs. I also wrote Glenn and he like the others responded.
Glenn went on to be a U.S. senator from Ohio for 25 years (1974-99). When I was in Washington in 1977, I saw Glenn on the steps of the Congressional Office Building having his picture taken undoubtedly by a professional photographer for some official purpose. Not only did I recognize him as my car passed by the scene, but I was absolutely thrilled at having seen him.
Glenn represented the clean-cut, decent human being who lived without scandal.
He left his studies at Muskingum College when World War II broke out and he served his country as a fighter pilot for the U.S. Marines where he flew 59 combat missions. As a captain he flew 63 combat missions in the Korean War. Afterward, he also conducted patrol missions over China. He later became a flight instructor and a test pilot on flying planes at high altitudes to test their cannons and machine guns and on transcontinental flights at supersonic speed.
Astronaut at 77 years old
In 1959 as a colonel, he became a NASA astronaut and stayed until 1963 when he decided to enter local politics. He retired from the military in 1965. In October 1998 at age 77 he flew on Discovery to test the effects of space flight on the elderly.
Through it all the small town boy from New Concord, Ohio, remained a humble and respectable man, husband to Annie, his childhood sweetheart (since 1943) and father of two children.
Glenn was depicted by Ed Harris in the 1983 film,
The Right Stuff
. He spoke about his 1962 flight 10 years ago on
C-SPAN
. At age 90, the
New York Times
recognized the 50th anniversary of his Mercury flight in an
article
that summarized his career and quoted the former astronaut's displeasure with the current direction of NASA.
The Mercury 7 Astronauts
This year Cape Canaveral is hosting a series of events honoring Glenn's anniversary flight. M. Scott Carpenter, the Mercury astronaut who was Mr. Glenn's backup and radio link, was also in attendance. The two are the only surviving members of of the Mercury Seven.
Virgil I. Grissom died
in 1967 in an Apollo spacecraft fire during a launching-pad test.
Donald K. Slayton
died of cancer in 1993.
Alan B. Shepard Jr.
died of leukemia in 1998.
L. Gordon Cooper Jr.
died of natural causes in 2004. Walter M. Schirra Jr. died of a heart attack in 2007.
Any news about John Glenn always excites my childhood heart and elicits my rapt attention. I couldn't let this year's anniversary go by without a mention on my blog.
Thanks, John Glenn!